> downloads
Directly to the downloads? Please click at the links on the left side.
# Help! 1.4.3 (PDA/PPC) # SetFileTime
# hint
The download of the programs Control IO, ControlCDdoor, demo-
windows forms-Net and ControlHandles is possible at
bits and pieces -> joke functions (programming).
---
# Help! 1.4.3 (PDA/PPC)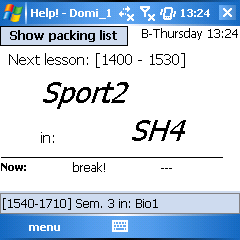 [view the description of Help!]
OS: Windows Pocket PC 2002/2003 or Windows Mobile 5 / 6
with .NET framework
screen resolution: SQVGA / QVGA tested: 240x240 px² | 240x320 px²
Version: 1.4.3 (corr) [Dec 4th, 2010]
Changelog:
two spelling mistakes were corrected
Changelog to 1.4.2:
easier entry of the hours
Download of cab-file: [~ 80 kB]

Dutch version: (zip) Help! 1.4.3 Dutch [many thanks to Wietze]


German version: Help! German download page
Installation instructions:
download the cab installation file
copy the cab-file on your end user device (pda or ppc)
run and install the cab-file there
start and enjoy the installed program!
The cab-file is no longer required for the execution of the program after the installation on the PocketPC is done.
limited version for computers
Furthermore the download of an (in use) limited executable version for a computer is possible. For example this version might be used for a simple input of your data and subsequent to export these data into a profile, that is copied on the end user device:
(.net) download of the limited version for a PC of Help!
---
# SetFileTime (Windows)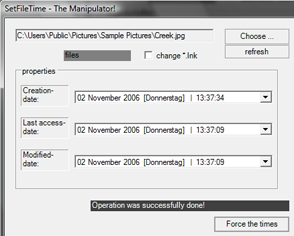 platform: computer [.Net-Framework]
OS: Windows XP/Vista resp. every with installed .Net-Framework
Version: 1.0
Download of binary version (exe): [13,1 kB]
Download of setup version: [194 kB]