> Help!
platform: pda / ppc [.NET compact framework]
OS:
Windows Pocket PC 2002/2003
Windows Mobile 5 / 6
price: free
screen resolution: SQVGA / QVGA (tested: 240x240 px² | 240x320 px²)
an electronic timetable for high-school and university
---
In general
This freeware indicates a student or pupil on base of their schedule (time-table), which lesson she/he has at the moment and where she/he has to go next.


Therewith senseless running around in the school or the university building is supposed to be diminished.



After school a packing list for the next (school) day is shown: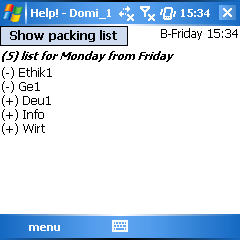 after school a packing list is created
The application was developed for devices with the .net-framework from Microsoft for PocketPCs.
Use of profiles
Moreover various profiles (e.g. of friends) can be exported and loaded into the program: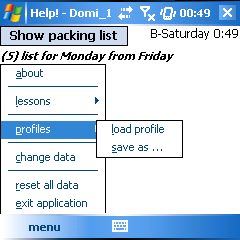 import/export of various profiles is possible
The profile will be saved into a file with the extension ".unt".
---
data entry
To work properly Help! obviously needs some data of the timetable at the beginning.
You can do this on the ppc in the menu with the option "change data":

data entry at menu-> change data
After that a dialogue for inputting/changing of the hours will appear.
Notice: The petition of the lesson times should be entirely completed before entering data of lessons (also if there are no lessons at this time)
because following changes can lead to problems since the lessons are not shifted, but rather assigned to the first, second,... hour.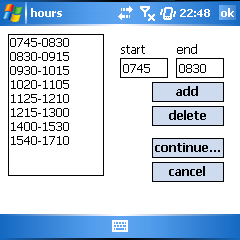 entry of the hours (time of lessons)
If this was successfully done, you can go on with the input of the lessons by clicking on "continue...".
Notice: By clicking on "cancel" you can leave every dialog without changes.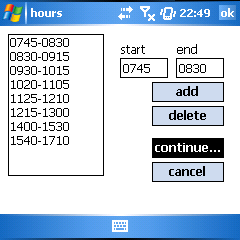 after entry and comfirmation of all hours...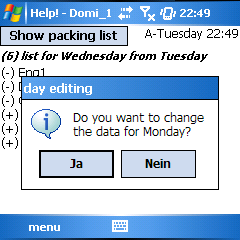 ... you can go on with the lessons of every day.
[screenshot was created on a German system]
In the following dialogs you can associate lessons/rooms to the previously input times.
procedure:
select the hour (time), then
a) enter lesson / room and confirm with "change"
b) remove data with "delete" (free period)
Notice: In order for Help! to be able to generate a meaningful packing list, every lesson has to be named in exactly the same way at all days!

association of a lesson /room to the hours
After entering all information for this day, you can confirm the dialog with "ok" and continue with another day.
---
special case - entry of two-week period
The programm Help! can handle two-week periods.
The current week (A or B) is shown at the top right edge of the main screen and in the dialog "lessons"-> button "2 week" in the caption of the appearing message.
procedure:
In order to input two-week periods, please add "_A_" or "_B_" (without quots) before the specialty (lesson) name.
lesson: _A_English
room: 318
If lessonX takes place in one week and lessonY in the other, then please do this like shown:
lesson: AB:lessonX|lessonY
room: room1|room2
notice 1: Please do not use empty signs before or after the | separator!
notice 2: You can find the sign | at the PPC-keyboard
by clicking on "Sym"->at the place, where else 0 is located.
On an English keyboard you can find this symbol by pressing Alt Gr and´
tip: You can view this part (entry of two-week period) in the dialog "lessons" by clicking on "2 week".
---
special case - packling list when there are lessons left
To show the packing list during lessons, the button "Show packing list" (top left edge) can be used.
# If school hasn't yet started (time before the first hour), a message appears that yesterday's packing list (for today) will be shown.
# If school has already started, Help! asks you whether to show yesterday's packing list or the one for the following day.

After a click on "Show packing list" during school, Help! asks which packing list to show


# After school the packing list will be shown in a seperate window when clicking on "Show packing" list.

view of the packing list in a seperate window by clicking on "Show packing list" at the main screen
---
special case - overview of the entire day
It is possible to get an overview of the entire present or following (school) day in the menu at the point "lessons":
call the view of all hours of a day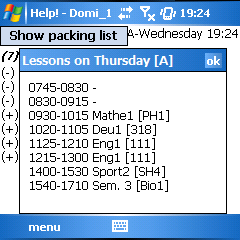 view of all hours at a day (with room information)